New Technology Raises the Standard of Investigations & Service to Victims
of
Sexual Assault.
CopperTree Forensics new generation Forensic Investigation Torches are already helping to raise the standards of Police investigation into sexual assault offences from London to New York City.
Now as part of a research partnership with CopperTree Forensics and Staffordshire University, Mountain Healthcare also have the Forensic Investigation Torches (SARCS-LED) to use within their SARC's.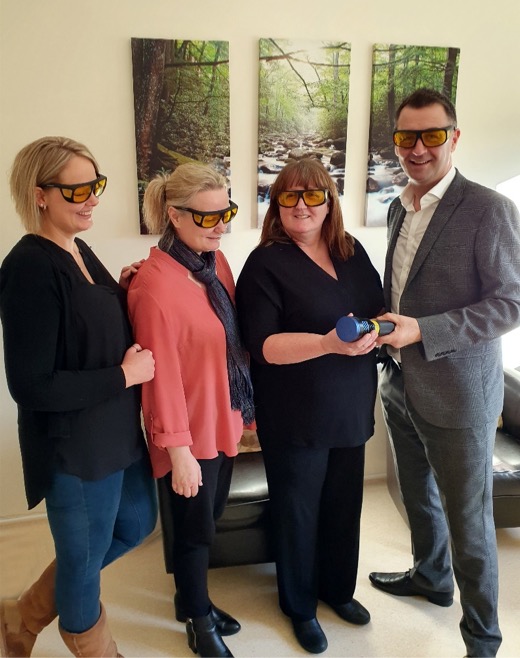 Stephen Murphy (BD Director) handing the SARCS-LED to Pat Battersby (Surrey SARC Manager), Mel JEBB (Crisis Support Worker) and Vikki Turney (Forensic Nurse Examiner).
The new LED technology locates human biological traces at microscopic levels, even when used at crime scenes or locations where there is polluting light.
The research conducted by the partnership identified new cleaning protocols and enabled users to 'see' affected areas and support current ATP testing. This has helped to raise the standards of service within SARCs where the new technology is available.
The research was presented by Professor Cassella to the Chartered Society of Forensic Sciences and the Forensic Science Regulator.
Below are some pictures taken in a non-forensic area of the SARC, showing the Sexual Assault Rapid Crime Scene-LED (SARCS-LED) in action. The first picture is what the naked eye could see. The 2nd picture is then using the SARCS-LED.